Building your home: for what price?
The average price of new houses: € 1,523 / m² off-road. The entry-level starts at around 1,100 € / m² excluding land, adaptation to the land and related costs.
The price of new houses varies depending on the type of manufacturer, the contract and the guarantees.
The price differences are also due to the type of house, the technical choices, the address and the configuration of the land.
Our tables give the real prices of new houses according to the professionals who build them, their type of energy and their region.
Manufacturers: houses from 1,100 € / m². In the new house, the price range is wide. Among manufacturers working under the 1990 Construction-Law Contract, so-called entry-level houses start around € 1,100 / m² (TTC sales price excluding land, adaptation to land and related costs in version ready to decorate). The intermediate ranges vary between 1,400 and 1,700 € / m² including tax under the same conditions. As for the high standing and the tailor-made, it can go up … very high. "The average house built by a manufacturer in a Construction Contract made within 110 to 115 m² with three rooms, for an average price of around 170,000 to 180,000 € TTC out of the field" indicates Patrick Vandromme, president of the Hexaôm Group.
Prices of new houses: the real figures
Average surface of the new house
Average price of new houses
Unit price of new houses (average)
Architect
144 m²
1,926 € / m²
€ 278,000
Manufacturer (CCMI-law of 1990)
114 m²
1,528 € / m²
€ 174,600
Entrepreneur or craftsman
124 m²
1,559 € / m²
€ 194,000
Individual himself
130 m²
€ 1,393 / m²
€ 180,900
Other cases
125 m²
1,613 € / m²
€ 201,000
Whole France
120 m²
1,523 € / m²
€ 183,300
Source: Ministry of Ecological and Solidarity Transition (SOes, EPTB 2020 published on December 14, 2021). Latest figures available on the date of the last update (January 7, 2022). These prices relate to the construction of individual houses "in diffuse", built by individuals (these are not grouped villas offered by promoters in the context of sales on plans). The market shares of professionals in broadcasting are distributed as follows: architects 5%, builders in Construction-Law Contract of 1990 61%, entrepreneur or craftsman 9%, Individual who supervises the work himself 22%, other case 3% .

Construction: the prices of architects and prime contractors. Architects are not necessarily overpriced. They can build houses from 1,300 € / m² including tax, some of which can go lower. With these professionals, the high-end can also reach new heights. The logic is the same if you sign works contracts with different building companies. What to remember: the more complex the house is on the technical and architectural levels, the more it integrates services and equipment, the more expensive it is. A valid rule regardless of the type of interlocutor.
Prices of new houses: compare what is comparable. With a manufacturer, the price takes into account the protections linked to the 1990 Construction-Law Contract (the guarantee of delivery at agreed prices and deadlines requires insurance given by a guarantor). An additional cost offset by a large volume of production, which allows this professional to negotiate downward prices for materials, equipment and subcontracting companies. Architects are often more expensive: they are tailor-made and cannot develop the same pricing policy with their suppliers, reduced production volumes oblige. Professionals working on a company contract display prices roughly similar to those of manufacturers but are far from offering the same guarantees.
New house: how to explain the price differences ?
Architecture, services and prices. The price of your home depends in particular on its architecture. "With simple volumetricity, inspired by the cube, it will cost you less than if it is animated by games of facades which require more materials and manpower", indicates Fabien Cuminal, managing director of the Cofidim Group (Maisons Sésame, Le Pavillon Français). The floor villas, with basement, buried garage, etc. they too see their prices go up as their shapes get complicated. Likewise, villas with terraced roofs, which require reinforced tightness, are more expensive than those which receive a roof with two slopes.
House price: the impact of the land. Your plot is flat, the basement is geotechnical healthy: you will limit or even eliminate the additional costs. On the other hand, a sloping ground, especially if it is steep, can increase the bill. This is even more true if you opt for a sought-after architecture, if you create a basement level, an access ramp for the garage… Always discuss these points with the manufacturer to calculate the fair price. Also think about access to the site. If it is complicated, if many truck rotations are required, for example, the bill will increase. Check these points with the manufacturer.
The cost of technical choices. A classic masonry will necessarily be cheaper than rectified blocks lined with insulation and mounted on a thin seal. Another example: for a 120 m² house, a gas boiler associated with a heating floor, a thermodynamic water heater and a simple flux VMC will return within 10 to 12,000 €. If, with the same house, you opt for a dual-service heat pump (it also produces hot water), a heated floor and a double-flow VMC, count from 16,000 to 18,000 €. In short, the more efficient and sophisticated a house, the higher its price.
Construction materials: at what prices ? Some materials are more expensive than others. A cellular concrete house, for example, will require a larger budget. But it will be more efficient, which will limit the need for insulation and will lower energy bills later. Likewise, wood frame houses are a little more expensive per square meter than built villas with traditional constructive modes even if the difference tends to decrease. But they build faster, which limits costs.
Also take into account domestic services. For example, tiles start around 15 to 20 € / m², the high end being able to exceed 200 € / m². The price of kitchens excluding household appliances can vary from simple to quadruple. In short, everything is a question of adequacy between your needs, your desires and your budget. And don't forget: "The price of a new house is always considered in a global way, including facilities, equipment, decoration and even the garden" recalls Quentin Bourdon, managing director of the BDL Group
Price of new houses: the impact of RE 2020
House: the price of regulation. The technical standard that frames construction, environmental regulations 2020 (RE 2020) has consequences on the price of your home. It strengthens insulation obligations and imposes the use of renewable energy. Other requirements: you must equip your home with equipment operating on renewable energies (heat pumps in particular), with some exceptions. And summer comfort is reinforced, which involves additional costs (advanced bioclimatic design, refreshment equipment, etc.).
Construction costs vary by region. With RE 2020, a new house must meet a bioclimatic need coefficient (Bbio). This Bbio must be less than a maximum (BbioMax), which depends on the area of establishment of the construction and its altitude. Calculated by the household thermal study, these criteria are also used to determine the energy consumption ceilings. Suddenly, to respect RE 2020, houses must be more isolated if they are located at altitude and / or in cold regions. But they must further optimize their summer comfort in hot regions.
RE 2020: thrifty houses. "R 2020 increases construction costs by 5 to 10% depending on the region compared to the old RT 2012 thermal regulations" indicates Grégory Monod, president of the Habitat Pole of the French Building Federation "But thanks to her, the energy bill of the houses twice lower than those of the houses RT 2012, which were already three to five times more efficient than the old one" In the Pays-de-Loire, for example, the heating and hot water expenses of a RE 2020 house of around a hundred square meters will be around 300 to 400 € per year.
The truth about the price of BBC houses. Some websites talk about the prices of new houses conforming to the label of the Low Consumption Building or BBC. However, this technical standard ceased to exist in 2013, when RT 2012 entered into force. Clearly: talking about the price of BBC houses to individuals who will start a construction project in 2022 or later does not make sense since this label is no longer used in the new. Today, the BBC label only exists in the field of renovation of old housing (BBC Renovation).
New construction, performance and capital gains. Houses that display A or B on the energy performance diagnosis are sold, all other things being equal, more expensive than those that are less well classified. It is a study of notaries in France which has proven this every year since 2014. However, RE 2020 houses are always classified A or even B. While the old one generally varies from D to E and the thermal wrecks fall to G (the worst level).
Passive houses: the cost of performance. Some individuals turn to very successful houses such as passive construction. Ultra isolated, benefiting from a reinforced seal, equipped with double flux breakdowns and often triple glazing joinery, they are worth on average 20% more than houses simply conforming to RE 2020. Their advantage: they do not need heating to ensure the comfort of their owners in winter and provide freshness to their inhabitants without air conditioning in summer.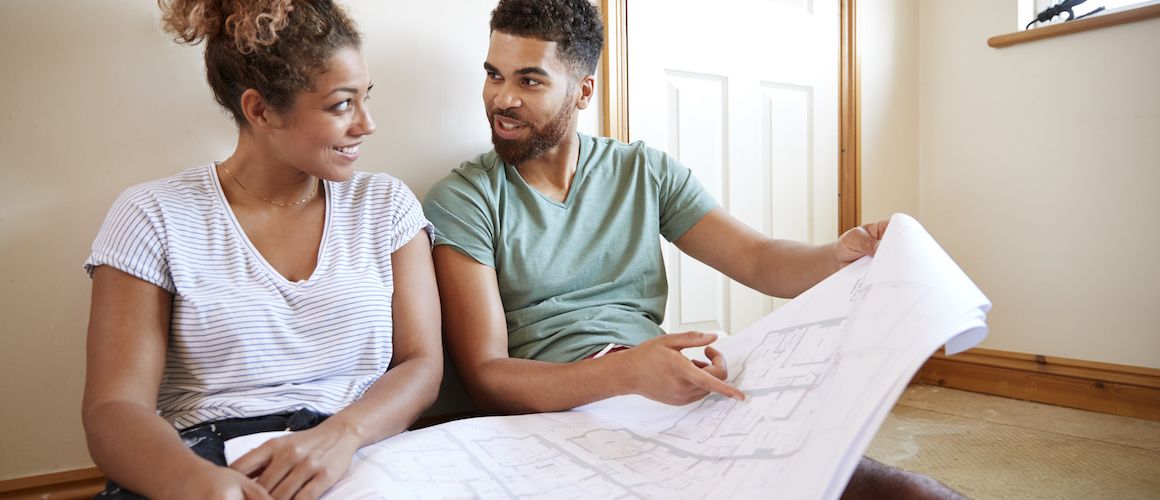 Construction: type of heating, energy and price of new houses
Market share
Average price of new houses
Average floor area of new houses
Average price of new houses
Gas
8%
1,516 € / m²
121 m²
€ 183,100
Electricity alone
26%
1,478 € / m²
116 m²
€ 171,900
Electricity + auxiliary wood
4%
1,566 € / m²
126 m²
€ 196,600
Renewable energies alone or combined with each other
37%
1,568 € / m²
124 m²
€ 194,800
Renewable energies combined with another heating mode
13%
1,525 € / m²
121 m²
€ 184,500
Other heating modes
12%
1,467 € / m²
115 m²
€ 168,300
Source: Ministry of Ecological and Solidarity Transition (SOeS, EFTB 2020 published on December 14, 2021). Latest figures available on the date of the last update (January 7, 2022). Again, these real prices apply to new houses built by individuals (the sector diffuses in technical language).

Construction: price of a new house depending on the region
Average price of a new house per square meter
Average floor area of a new house
Average price of a new house per unit
Auvergne-Rhône-Alpes
1,636 € / m²
124 m²
€ 202,900
Burgundy-Franche-Comté
1,509 € / m²
127 m²
€ 191,000
Brittany
1,541 € / m²
117 m²
€ 180,700
Center-Val-de-Loire
1,341 € / m²
123 m²
€ 164,500
Corsica
1,890 € / m²
123 m²
€ 233,100
Great East
1,575 € / m²
138 m²
€ 217,100
Hauts-de-France
1,395 € / m²
127 m²
€ 177,400
Ile-de-France
1,599 € / m²
134 m²
€ 214,300
Normandy
€ 1,397 / m²
120 m²
€ 166,600
New Aquitaine
1,470 € / m²
116 m²
€ 170,400
Occitania
1,440 € / m²
117 m²
€ 168,700
Pays-de-la-Loire
1,573 € / m²
112 m²
€ 176,000
PACA
1,703 € / m²
120 m²
€ 204,200
DROM
1,436 € / m²
102 m²
€ 146,200
Metropolitan France
1,526 € / m²
121 m²
€ 184,800
Whole France
1,523 € / m²
120 m²
€ 183,300
Source: Ministry of Ecological and Solidarity Transition (SOes, EPTB 2020 published on December 14, 2021). Latest figures available on the date of the last update (January 7, 2022). These figures are averages. They clearly show regional disparities in terms of the cost of new houses. Besides the surface, the cost of these constructions also depends on the climatic zone. The colder it is, the more the RE 2020 imposes an efficient building (work / insulation set), which weighs on construction costs. We must also take into account the need for cold imposed by RE 2020, especially in the hottest climatic zones.

Click on a department to see
offers from new houses with land
Calculate your construction budget
Field: transfer duties and taxes
Field: technical costs
Construction and formalities: what costs ?
New house: how much it costs ?
The real price of mortgage